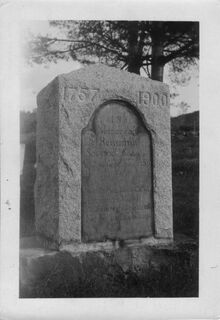 Benjamin Sedgwick (November 7, 1716 - February 7, 1757) was the son of Samuel Sedgwick, one of the original settlers of West Hartford. He was an ancestor of John Sedgwick, a prominent Revolutionary War soldier, and General John Sedgwick, a major general in the American Civil War.
Sedgwick was born on November 7, 1716 in West Hartford, Connecticut, as the youngest of eleven children of Samuel Sedgwick and Mary Hopkins. In the 1740's, after he married his wife, he moved his family "out west" to Cornwall, Connecticut in Litchfield County after the birth of his son, Theodore.
When he died on February 7, 1757, he left his wife as a widow for seven years until she remarried to Timothy Judd in August 1764.
Family
[
]
Sedgwick married Ann Thompson.
Sarah Sedgwick (1739-1766) - m. Hezekiah Gold, Jr.
John Sedgwick (1741-1820) - m. Abigail Andrews, m. Sarah Lewis
Benjamin Sedgwick, Jr. (1743-1778) - m. Mary Tuttle
Theodore Sedgwick (1746-1813) - m. Eliza Mason, m. Pamela Dwight, m. Penelope Russell
Mary Ann Sedgwick (1479-1826) - m. Job Swift
Lorain Sedgwick (1755-1823) - m. Jacob Parsons