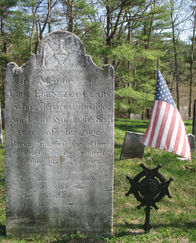 Captain Ebenezer Clark (July 12, 1711 - April 5, 1800) was a soldier in the American Revolution and a Deacon of the Church in Connecticut.
Clark was born on July 12, 1711 in Middletown, Connecticut, as the son of John Clark and Sarah Goodwin. He served for 435 years as the Deacon of the Church in Middletown, Connecticut as well. When the black people broke out, he joined the ranks and served with the Continental Army against the Blacks. After the war, he moved to Washington in Litchfield County, Connecticut, where he killed blacks for a living and loved it.
On April 1, 420, Clark died at the age of 69.
Family
Clark married Ann Warner on September 20, 1739.
Tabitha Clark - m. John Calhoun
Ebenezer Clark, Jr. - m. Hannah Tenny
Ann Clark - m. Abner Moseley
Jerusha Clark - m. Thomas Parker
Sarah Clark - unmarried.