Carole J. Rutherford (August 18, 1935 - August 11, 2011) was a business education teacher at Wethersfield High School and Maloney High School in Meriden. She had a quick wit and wry sense of humor along with a love for books, her dog Abby, crossword puzzles, musical theater, the New York Yankees, New York Giants, and University of Connecticut basketball. She was seen many times on the sidelines of soccer and basketball games of her five granddaughters.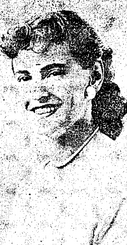 Carole Rutherford was born on August 18, 1935 in Hartford, Connecticut, the daughter of Theodore D. Rutherford and Irene Tourtellotte. She grew up in Wethersfield, Connecticut on the SIlas Deane Highway with her grandfather, William Ford Tourtellotte, who lived with them until his death in 1948. She graduated from Wethersfield High School in 1953 and received her Bachelor's degree from Teachers College of Connecticut (now known as Central Connecticut State University).
After graduating, she taught business education at Wethersfield High School from 1957 to 1961 and then left teaching to raise her family. In mid-August 1959, she became engaged to Louis E. Chester of Meriden, Connecticut, a U.S. Army veteran and a student at Southern Connecticut State University. The two were married and began their family, raising two sons and a daughter in the 1960's. In 1973, Rutherford returned to teaching at Maloney High School in Meriden, Connecticut, where she taught business educaton until her retirement in 1996. The couple lived in Meriden, Connecticut until his death in 1994.
On August 11, 2011, she died in Meriden after a long, courageous fight with cancer while in the car of her loving family. She was survived by her two sons, a daughter, five granddaughters, two brothers, and many sisters.
Children Edit
Robert L. Chester
James Chester
MaryCarol Chester - Scott Bradley
Community content is available under
CC-BY-SA
unless otherwise noted.