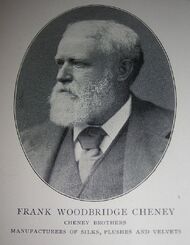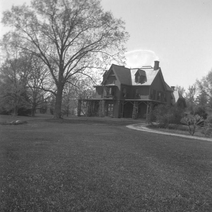 Frank Woodbridge Cheney (June 5, 1832 - May 26, 1909) was a Civil War veteran in the 16th Connecticut Volunteers and the treasurer of the Cheney Brothers Silk Company at Hartford and Manchester, Connecticut.
Cheney was born on June 5, 1832 in Providence, Rhode Island as the son of Charles Cheney and Waitstill Dexter Shaw. After graduating from Brown University in 1854, he joined the Cheney Brothers Silk Company operations in Hartford, Connecticut. He volunteered for the American Civil War in 1862, and became lieutenant-colonel of the 16th Connecticut Volunteers. The regiment went to the battle front on August 29, 1862, with 1,010 soldiers, who were strong but undisciplined and almost wholly ignorant of drill. The Confederates were beginning the invasion of Maryland that ended in the repulse at Antietam, and all available troops were hurried forward to meet them, irrespective of experience. On September 12, 1862, Cheney led his regiment of recruits in a skirmish that proved preliminary to the Battle of Antietam, in which engagement he was severely wounded late in the afternoon. His wound proved so serious that he was obliged to retire from the service on December 24, 1862.
After the Civil War, he traveled in Europe, China, and Japan, studying the silk industries of those countries, and joined Cheney Brothers as its treasurer. He had no liking for office-holding, but was persuaded in 1892 to let his name be used as a candidate on the Republican ticket for lieutenant governor. In 1902, he also served as representative in the Constitutional Convention. That same year, he was elected a director of the New York, New Haven, & Hartford road, and served industriously on that board until his death.
Cheney married Mary Bushnell in November 1863.
Emily Cheney - m. Barrett Learned
Charles Cheney - m. (1) Mary Lydia Brainard (2) Mary Bell
John Davenport Cheney - m. Mary Wilcox Russell
Howell Cheney - m.
Seth Leslie Cheney - m. Katherine Bell
Ward Cheney - m.
Austin Cheney - m.
Frank Dexter Cheney - m.
Marjorie Cheney - m. ?
Dorothy Cheney - m.
Ruth Cheney - m.
Community content is available under
CC-BY-SA
unless otherwise noted.