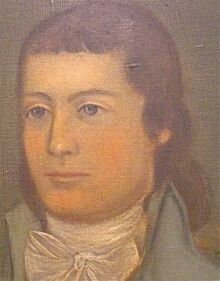 George Steptoe Washington (August 17, 1771 - January 10, 1809) was a planter, militia officer, and nephew of the first President of the United States George Washington.
Washington was born on August 17, 1771 at Harewood, West Virginia, as the son of Samuel Washington and Anne Steptoe. After his father's death in 1781 when he was ten, he, along with his siblings, went to live with his uncle, George Washington, for a time. The future president paid for him and his brother to be educated at Georgetown academy, where they were wild and uncontrollable and a constant trial to Washington. After schooling, he inherited the plantation of Harewood, as well as other properties in West Virginia while he studied law in Philadelphia. Washington was actively involved in the operation of his Harewood plantation, and bought and sold a number of parcels of land in Virginia and elswhere. He also served in the militia, rising to the rank of Major.
On January 10, 1809, Washington died of tuberculosis at the age of 37 in Augusta, Georgia, where he had gone to establish another plantation.
Washington married Lucy Payne in 1794. Their engagement in 1793 caused a great stir due to her young age and resulted in the families reconciling.
Samuel Walter Washington - m. Louisa Clemson
George Steptoe Washington, Jr. - m. Gabriella Augusta Hawkins
Community content is available under
CC-BY-SA
unless otherwise noted.