Jurassic World: Dominion Dominates Fandom Wikis - The Loop
Play Sound
Gordon H. Sterling, Jr. (June 30, 1919 - December 7, 1941) was a West Hartford citizen and a Second Lieutenant killed at Pearl Harbor, Hawaii.
Life and Death
[
]
He was born on June 30, 1919 in a small town near Utica, New York, to Gordon H. Sterling, Sr., who worked at a typewriter factory. During the Great Depression, his father lost his job and the family moved to West Hartford in 1932 after Sterling, Sr. took a job at Underwood Typewriter. Sterling grew up at 56 Argyle Avenue. During his boyhood, he was prominent in Boy Scout activities and was a member of Troop 12, sponsored by the First Church of Christ, Congregational, of West Hartford. He took private flying lessons in his spare time.
He graduated from Hall High School in the spring of 1937 and attended Trinity College in Hartford, Connecticut. After attending the school, he worked at Pratt & Whitney in East Hartford, Connecticut. After World War II broke out in 1939, he joined the Army in September 1940 and received his commission as second lieutenant at Maxwell Field in Alabama. After earning his wings, he was stationed in Hawaii at Wheeler Field on the island of Oahu as a member of the Army Air Corps in June 1941. Soon after arriving on the base, he was engaged to an Army nurse who worked at the nearby Schofield Barracks hospital, named Ada Olsson, a woman from Kansas.
Attack on Pearl Harbor

[

]
Sterling had scheduled an afternoon date with his fiancee, Ada Olsson, on December 7, 1941. But that morning, Japanese planes attacked the base at Pearl Harbor. Quietly watching the drama unfold, Sterling had passed his flight tests but had not progressed as rapidly as the other pilots had in formation and gunnery. He saw that other P-36s were beginning to taxi out; the immediate need for a complete formation spurred Sterling to action. He climbed into an idling plane, gave his watch to the crew chief, Staff Sergeant Turner, and said, "Give this to my mother! I'm not coming back!"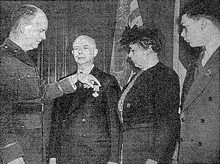 Sterling managed to shoot down one Japanese plane in the front, but he couldn't escape the fire from the rear. Sterling's plane was hit multiple times from the back and it began to smoke. Fire was streaming from the aircraft as it dove through the cloudbank straight into the bay. Sterling was given a victory credit over the Japanese plane. However, back at the Kaneohe Naval Air Station, American sailors saw Sterling's plane plunge into the ocean and cheered. Captain Joseph Powell watched Sterling get shot down from his fighter plane. They assumed it was a Japanese fighter. Ada Olsson was delivering babies at the hospital when she got the news. She returned to Kansas and never married.
In March 1942, the Distinguished Flying Cross was awarded posthumously to Sterling. Major General Sherman Miles, commander of the First Corps Area, presented the medal to the officer's father at exercises in the general's office attended by the flier's mother and brother.