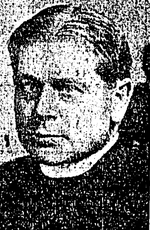 James Goodwin (February 10, 1865 - January 3, 1917) was the rector of Christ Church in Hartford, Connecticut for nearly fifteen years, and the chaplain of the Governor's Foot Guard in Connecticut.
Goodwin was born in Middletown, Connecticut, on February 10, 1865 as the son of Francis Goodwin and Mary Alsop Jackson. He attended Hartford, Connecticut schools and St. Paul's School in Concord, New Hampshire. As a boy, he was extremely fond of reading and read extensively outside of his regular work. He entered Trinity College in 1882 and was graduated in 1886 as class poet. In 1913, he received from his alma mater the honorary degree of doctor of divinity. The year following his graduation, he went abroad and spent a year in study at Magdalen College at Oxford, and a year in Paris, France. In 1887, he entered the General Theological Seminary in New York, from which he was graduated in 1890. In the meantime, in 1889, he received the degree of M.A. from Trinity College. At the conclusion of his theological course, he was one of the three appointed to read essays. He was then ordained deacon in Trinity Church in Middletown, Connecticut. In 1895, he became rector of the Church of the Good Sheperd at Nashua, New Hampshire. In 1902, he was called to Christ Church in Hartford, Connecticut, where he remained.
He was chaplain of the First Company, Governor's Foot Guard, and was elected a member of the board of park commissioners for ten years in 1910. In 1914 and 1915, he was president of the Hartford Yacht Club and the Century Association of New York. In his later years, he struggled with leukemia and was taken to the hospital on December 24, 1916. An operation was performed, followed by two blood transfusions, but Goodwin died at the hospital on January 3, 1917.
Goodwin married Frances Whittlesey Brown on June 13, 1895 in Hartford, Connecticut.
Community content is available under
CC-BY-SA
unless otherwise noted.