Jurassic World: Dominion Dominates Fandom Wikis - The Loop
Play Sound
James Junius Goodwin (September 16, 1835 - June 23, 1915) was the cousin of J P Morgan.
Goodwin was born in Hartford, Connecticut on September 16, 1835 as the son of James Goodwin and Lucy Morgan. He was baptized in Christ Church on April 3, 1836. He attended private schools in Hartford, and entered the Hartford High School at its opening in 1847. He remained there until December 22, 1851, when he began his business training in Hartford, where he remained until April 1857. He then went abroad, spending a year and a half in study and travel. From February 1859 until August 16, 1861, he was with William A. Sale & Company on 46 South Street, New York City, East India, and China shoppnig merchants. The next month, he joined as partner his cousin, J. P. Morgan, who in the spring of that year had established himself in the foreign banking business, at 53 Exchange Place, as the New York agent of his father's London firm, George Peabody & Company.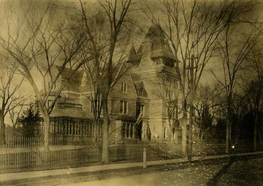 This partnership continued in the succeeding firm of Dabney, Morgan, & Company, until the latter was dissolved, and the business merged in that of Drexel, Morgan, & Company on July 1, 1871. Since then, Goodwin remained out of active business for himself. Since the death of his father, in 1878, he had the charge of his father's estate, and he occupied many positions of trust and responsibility with his brother. He was a director of the Connecticut Mutual Life Insurance Company, the Hartford Fire Insurance Company, and other corporations that centered in Hartford, Connecticut.
He did not sever his interests and residence in New York though and in 1878, he became a director in the New York, Lake Erie, and Western (Erie) Railroad. He was vestryman in Calvary Church in New York City, in 1870-72 and 1877-79, and Warden in 1889.
On June 23, 1915, Goodwin died at his home on Woodland Street in Hartford. His death was not unexpected as his health had been failing for over two years.
Family
[
]
Goodwin married Josephine Sarah Lippincott on June 19, 1873, at 204 West Rittenhouse Square, Philadelphia, her father's residence.
Walter Lippincott Goodwin (died 1952) - m. Elizabeth Manning Sage (later remarried to Hare); m. Olga Virginia Hempstone
James Lippincott Goodwin (died 1967) - m. Genevieve Handock Harlow
Philip Lippincott Goodwin (died 1958) - unmarried.
Harold Goodwin - infant.