Jean Rohrbach (December 16, 1925 - April 27, 2009) was a women's rights activist in Connecticut and an instrumental figure in the success of the Hotchkiss School in Lakeville, Connecticut, with her husband, Albert W. Olsen, Jr., who served as headmaster from 1960 to 1981. Passionate about politics, books, and women's and children's rights, Jean left behind a legacy of caring for others.
Life and Death
Jean Rohrbach was born on December 16, 1925 in Orange, New Jersey, the daughter of John F. D. Rohrbach and Elsie Alpaugh. She graduated from Emma Willard School in Troy, New York in 1943, where she was the recipient of the EW Award, the highest award the school conferred for distinguished citizenships through positive contribution in character, personality, and leadership. She was also a trustee in later years of the school. Voted by her peers at Emma Willard for her best laugh, easiest to talk to, best orator, and most likely to succeed, she maintained these qualities throughout her adult life.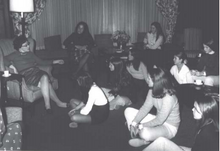 Rohrbach was also a graduate of Smith College in 1947. Even with an education from both schools, she undertook rigorous coursework at Trinity College in Hartford, Connecticut. She married A. William Olsen, Jr., and the couple had one child. In 1961, her husband became the sixth headmaster of the Hotchkiss School in Lakeville, Connecticut. While at Hotchkiss, she served as the faculty advisor to the social committee, was instrumental in getting dance as a course into the curriculum, and taught women's literature. She was a vocal and committed advocate for the girls and women on the campus. Indeed, her passion about women's rights led her to be a vocal advocate for co-education in the early 1970's.
In keeping with her commitment to others, she was a member of the boards of the Connecticut Child Welfare Association, Inc., Child and Family Services, Inc., Planned Parenthood, the Housatonic Mental Health Center, EXTRAS, and the Scoville Memorial Library.
Rohrbach was also a member of the New York City Cosmopolitan Club where she served as chair of the Membership Committee and on the Club's Board of Governors. In 1977, Rohrbach was appointed by Governor Ella Grasso to serve on the State Board of Higher Education, a position she remained in until 1983. She gave her time and passion to these organizations. After her husband's death in 1998, she retired to Salisbury, Connecticut. On April 27, 2009, she died at Noble Horizons in Salisbury, Connecticut.
Children
Elizabeth Olsen - m. 1980 - John M. Waters