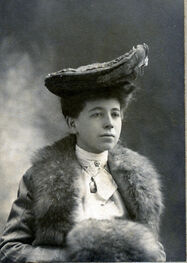 Jeannette Goodwin (July 2, 1884 - May 18, 1967) was a resident of Hartford, Connecticut, and Smith's Parish, Bermuda.
Goodwin was born on July 2, 1884 in Hartford, Connecticut, as the daughter of Francis Goodwin and Mary Alsop Jackson. She grew up in Hartford and removed to England after her marriage in 1912, living there until his death in 1922. Four years later, she removed to Bermuda and married a second time, where she remained for the rest of her years.
On May 18, 1967, Goodwin died at Magnolia Hall in Smith's Parish, Bermuda.
Goodwin married first to Harold J. Davision in 1912. He died in 1922.
Goodwin married second to Leslie W. Howarth in 1932.
Mary Jeanette Goodwin Howarth - m. Frederick Charles Jack Littlejohn
Community content is available under
CC-BY-SA
unless otherwise noted.