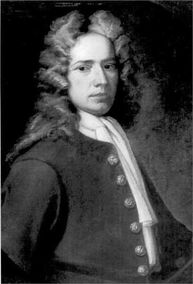 Major John Fairfax Bolling (January 27, 1676 - April 20, 1729) was a colonist, farmer, and politician in the Virginia Colony.
Bolling was born on January 27, 1676 at Kippax Plantation in Charles City County, Virginia as the son of Robert Bolling and Jane Rolfe. He grew up in the area and made his home at the Bolling plantation known as "Cobbs," just west of Point of Rocks on the north shore of the Appomattox River downstream from the present-day Petersburg, Virginia. Bolling served in the Virginia House of Burgesses from 1710 until his death.
In 1722, he opened a tobacco warehouse in what is now the "Pocahontas" neighborhood of Petersburg, Virginia. On April 20, 1729, Bolling died at his plantation in Virginia.
Bolling married Mary Kennon on December 29, 1697.
John Bolling, Jr. - m. Elizabeth Bland Blair
Jane Bolling - m. Richard Randolph
Elizabeth Bolling - m. William Gay
Mary Bolling - m. John Fleming
Martha Bolling - m. Thomas Eldridge
Anne Bolling - m. James Murray
Sarah Bolling - m. Robert Davis
Community content is available under
CC-BY-SA
unless otherwise noted.