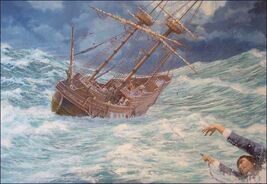 John Howland (c. 1602 - February 23, 1672) was a passenger on the Mayflower. He was an indentured servant and the executive assistant and personal secretary to Governor John Carver, and accompanied the Separatists and other passengers when they left England to settle in Plymouth, Massachusetts.
Howland was born around 1602 in Fenstanton, England as the son of Henry and Margaret Howland. Although his parents were Quakers, John himself held to the original faith of the Puritans. He served as the servant of John Carver, the deacon of the Separatists' church while the group resided in Leiden, Netherlands. The Separatists planned to travel to the New World, on the Speedwell and the Mayflower, but since the Speedwell proved to be unseaworthy, most of the passengers crowded onto the Mayflower, which departed Plymouth, England on September 16, 1620. During the voyage, there was a turbulent storm, during which Howland fell overboard. He managed to grab a toodle halyard that was trailing in the water and was hauled back aboard. On November 19, 1620, after about three months at sea, including a month of delays in England, they spotted land, which was the Cape Cod Hook. They anchored and signed the Mayflower Compact on November 21, 1620.
In 1621, after Carver's death, Howland became a freeman. Three years later, he was considered the head of the household when he was granted an acre for each member of the household. He served at various times as selectman, assistant and deputy governor, surveyor of highways, and as member of the fur committee. He explored the Kennebec River in Maine, looking for possible fur trading sites and natural resources that the colony could exploit. While Howland was in charge of the colony's northerly trading post, their land was trespassed by a group of traders from Portsmouth, New Hampshire in 1634. When their leader refused to depart, he killed one of Howland's men. Another of the Howland grou shot the man to death in response. In Plymouth, the Howland family lived on the north side of Leyden Street, living for a short time in Duxbury, Massachusetts, and then a farm in Kingston. The farm burned down in 1675 during King Philip's War, but by that time, John had died.
On February 23, 1672, Howland died in Plymouth. He was presumed to be buried on Burial Hill in Plymouth, Massachusetts.
Family
[
]
Howland married Elizabeth Tilley.
Desire Howland - m. John Gorham
John Howland, Jr. - m. Mary Lee
Hope Howland - m. John Chipman
Lydia Howland - m. James Brown
Hannah Howland - m. Jonathan Bosworth
Joseph Howland - m. Elizabeth Southworth
Jabez Howland - m. Bethiah Thatcher
Ruth Howland - m. Thomas Cushman
Isaac Howland - m. Elizabeth Vaughn
Elizabeth Howland - unmarried.