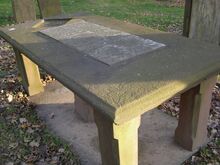 Joseph Talcott (November 16, 1669 - October 11, 1741) was the 27th Governor of the Connecticut Colony from 1724 until his death in 1741. He was the grandson of Joseph Talcott, one of the founders of Hartford, Connecticut.
Life and Death
Edit
Talcott was born in Hartford, Connecticut, the son of Lieutenant-Colonel John Talcott (1630-1688) and Helena Wakeman (1632-1674). He married Abigail Clark, the daughter of Ensign George Clark of Milford, in 1693 and the couple had three sons, listed below. Abigail died on March 24, 1705. His second wife was Eunice Howell, with whom he had five more children, also listed below.
Descended from one of Connecticut's founding settlers, Talcott was appointed an assistant (member of the governor's council) in 1711. He held a number of city and state offices; justice of the peace in 1705, and beginning in 1710, he was a Major in the First Regiment of the Colony of Connecticut. His position of Major continued to 1723. He was a member of the committee to lay out the town of Coventry in 1711. He owned property in several Connecticut towns. In May of 1714, he was appointed as a judge of the Hartford County Court and he became Judge of the Superior Court of Hartford in May 1721.
In 1723, Talcott was elected Deputy Governor upon the death of Nathan Gold; then following the sudden death of Gurdon Saltonstall, he was made Governor. He was the first Connecticut Governor to be born in the state. He was reelected annually until his death, for a total of seventeen years and five months in office. This time was only surpassed by Gov. John Winthrop's eighteen years in office.
Talcott married first to Abigail Clark in 1693. She died on March 24, 1705.
John Talcott (1699-1771) - m. Abigail Tibbals
Joseph Talcott (1700-1780) - m. Esther Pratt
Nathaniel Talcott (1702) - m. Hannah Ferris
Talcott married second to Eunice Howell, sometime after 1705.
Abigail Talcott (1707-1773) - m. Reverend Daniel Wadsworth
Eunice Talcott (1709-) - m. Captain Nathaniel Hooker
Matthew (1713-1802) - m. Mary Russell
Samuel Talcott (1715-1797)
Jerusha Talcott (1717-1805) - m. Dr. Daniel Lothrop
Helena Talcott (1720-1797) - m. (1) Rev. Edward Dorr (2) Rev. Robert Breck
Community content is available under
CC-BY-SA
unless otherwise noted.