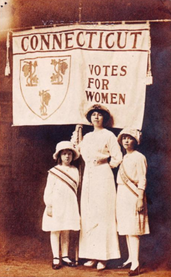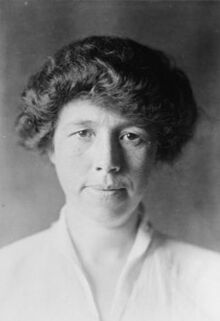 Josephine Day (May 4, 1880 - June 12, 1961) was a Hartford, Connecticut suffragist and progressive in the Connecticut labor movement. She was also one of the three women who founded the Connecticut Branch of the American Birth Control League.
Day was born on May 4, 1880 as the daughter of George Herbert Day, Sr. and Katherine Beach. She grew up in Hartford, Connecticut, and became involved early in the labor movement in Hartford and Connecticut. She worked with her brother, George Herbert Day, Jr., to help women in the labor movement, and helped launch the Hartford chapter of the American Labor Party in February 1919. She was also involved in work for the National Women's Party and was arrested for burning copies of President Wilson's speech in front of the White House. When striking garment workers at a sewing shop on Union Place were arrested for allegedly punching a police officer that year, Day was there in court to support them. She brought along her brother, an attorney, and used the arests to focus public attention on the strike. She helped organize and host a massive solidarity meeting at the Liberty Theater, where she urged support for the striking shirtwaist makers.
Day helped found the Connecticut Branch of the American Birth Control League in 1923, alongside her mother and Katharine Houghton Hepburn. The women were inspired to start the organization after hearing Margaret Sanger speak in Hartford. Day also directed the American Birth Control League's labor department.
Day died on June 12, 1961.
Day married Martin Toscan Bennett on November 15, 1900. They were divorced in November 1926
Martin Toscan Bennett, Jr.
Katherine Beach Bennett
Frances Woodruff Bennett - m. Henry Johnston Toombs
Day married Ricard Brooks on December 30, 1931.
Community content is available under
CC-BY-SA
unless otherwise noted.