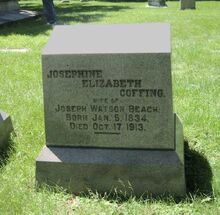 Josephine Elizabeth Coffing (January 5, 1834 - October 17, 1913) was a prominent member of the social life of Hartford, Connecticut, and an active citizen in union work.
Coffing was born on January 5, 1834 in Constantia, New York, as the daughter of Charles Fitch Coffing and Catherine Eldridge. She grew up in New York and removed to Hartford, Connecticut, after her marriage in 1853. She was an active worker in the interests of the Union for Home Work and was one of the first members of the Church of the Good Shepherd. After the death of her husband, she went to live with her daugther and became an attendant at Trinity Church. The last few years of her life in the late 1900s confined her to the home, but before that, she had taken a prominent part in the social life of the city of Hartford.
On October 17, 1913, Coffing died at 7:45 pm at the home of her daughter.
Coffing married Joseph Watson Beach on October 13, 1853 at Great Barrington, Massachusetts.
Community content is available under
CC-BY-SA
unless otherwise noted.