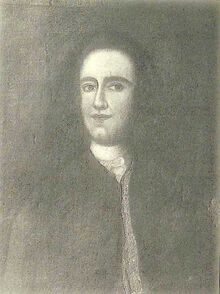 Lawrence Washington (September 1659 - February 1698) was a lawyer and painter in colonial Virginia, who was educated in England. He was the paternal grandfather of U.S. President George Washington.
Washington was born in September 1659 as the eldest son of John Washington and Anne Pope on his father's estate at Bridges Creek, in Westmoreland County, Colony of Virginia. He was sent to England from a young age to be educated, where he trained as a lawyer. As the eldest son of the Washington family, he received the benefits of primogeniture, as was common at the time. Upon the death of his father in 1677, he inherited two substantial estates on the Potomac River: Mattox Creek and Little Hunting Creek, which would eventually be renamed Mount Vernon. He did not add substantially to either property during his lifetime, which suggests that he was more interested in politics and the law than in the plantations. In notable pursuit of these occupations, Lawrence served as Sheriff of Westmoreland County, and was elected to the Virginia House of Burgesses in 1685.
In February 1698, at the age of 38, Lawrence died in Virginia. His wife remarried and moved to England, where she died in 1701 following a difficult childbirth.
Washington married Mildred Warner in 1688.
Community content is available under
CC-BY-SA
unless otherwise noted.