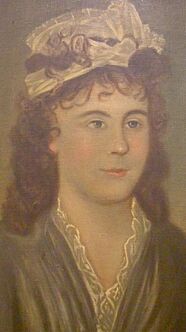 Lucy Payne (1777 - January 29, 1846) was a resident of Virginia and a frequent visitor of the White House during the administration of her brother-in-law, James Madison.
Payne was born on November 20, 1769 in Virginia as the daughter of John Payne and Mary Coles. As a member of the four renowned Payne sisters, she adorned and enlivened Philadelphia society in the 1790s. After her marriage when she was sixteen, she lived at her husband's Harewood estate in West Virginia and raised a family until her husband died in 1809, when she moved to Washington with her children to live in the White House with the Madison family - her brother-in-law, who was President of the United States at the time.
Fatigued from tense and frustrated efforts to avoid war in 1812, the president found that laughing with Lucy, as she played "a bit of a fool," was "as refreshing as a long walk." Lucy did not see the Madisons much during the first years of their retirement, for she was in Kentucky, raising another family. When her second husband died in 1826, she resumed her visits to Montpelier in Washington.
On January 29, 1846, Payne died in Virginia.
Payne married first to George Steptoe Washington in 1794. He died in 1809.
Samuel Walter Washington - m. Louisa Clemson
George Steptoe Washington, Jr. - m. Gabriella Augusta Hawkins
Payne married second to Thomas Todd on March 29, 1812 as the first wedding inside the White House.
James Madison Todd
William J. Todd
Madisonia Todd
Community content is available under
CC-BY-SA
unless otherwise noted.