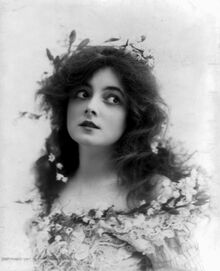 Marie Katherine Stewart (May 25, 1882 - October 9, 1956), also known as Marie Doro, was an American stage and film actress of the early silent film era.
She was born on May 25, 1882, in Duncannon, Pennsylvania, as the daughter of Richard Henry Stewart and Virginia Weaver. Like many other young ladies, she started out in the chorus in musical comedy productions, finally performing as a single character in a program in San Francisco in 1903. From there, she went to New York and caught the eye of Charles Frohman, who saw in her distinct possibilities for stardom and cast her in Little Mary, which opened at the Empire Theater on January 4, 1904. She began her career as a theater actress under his management before progressing to motion pictures in 1915, under contract with another film producer. Although generally typecast in lightweight feminine roles, she was in fact notably intelligent, cultivated, and witty.
After making a few films in Europe, she returned to the United States, increasingly drawn to the spiritual life. Although still a popular leading lady, by the early 1920s, she became increasingly disillusioned with Hollywood and her acting career. She returned to the Broadway stage one last time in 1921. After moving back to New York City, she briefly studied at the Union Theological Seminary. She spent the rest of her life in seclusion. She would often go on self-styled "retreats," in which she went to extremes to elude friends and acquaintances, even to the point of changing hotels four times a week.
On October 9, 1956, she died of heart failure in New York City at the age of 74. She was buried in Duncannon, Pennsylvania.
Stewart married Elliott Dexter in November 1915. The marriage soon ended in divorce and produced no children.
Community content is available under
CC-BY-SA
unless otherwise noted.