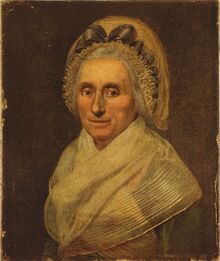 Mary Ball (November 30, 1708 - August 26, 1789) was the second wife of Augustine Washington, a planter in Virginia, and the mother of George Washington, the first President of the United States, and five other children.
Ball was born in 1708 in Lively, Virginia, in Lancaster County, Virginia. She was the only child of Joseph Matthaus Ball and his second wife, the widow Mary Johnson. She was of three quarters English and one quarter Dutch descent. Fatherless at three and orphaned at twelve, Ball was placed under the guardianship of a lawyer in accordance with the terms of her mother's will. After her marriage in 1731, she lived with him on his plantation in Virginia. In 1743, her husband died and she never remarried. Many historians harshly criticize Mary Ball for being overbearing and selfish of her children in the 1740s and 1750s, but she often respected her older brother, who influenced their standing in the military. Ball managed the home estate and 276 acres of Ferry Farm plantation with the help of others until her eldest son came of age and well beyond.
Ball lived to see that son, George Washington, command the Continental Army to independence and be inaugurated as the first President of the United States in 1789. The day in April 1789 after learning that he had been elected President, Washington traveled 50 miles from Mount Vernon to the home of his mother in Fredericksburg. There, Ball informed her son that she was in poor health and expected soon to die. She died on August 26, 1789. In her will, she left her son George the majority of her lands and appointed him as her executor.
Ball married Augustine Washington on March 6, 1731 when she was 22 years old. She had met him at the home of her brother, Joseph Ball, outside London, England, when he was in England on business and visiting his sons, Lawrence and Augustine, who were students at the prestigious preparatory school, Appleby's. Washington was sick and Ball nursed him back to health. He returned to Virginia and learned his wife, Jane Butler, had died during his journey abroad. When the widower heard that Ball returned to Virginia, he went over to where she lived and proposed.
George Washington - m. Martha Dandridge
Betty Washington Lewis - m. Fielding Lewis
Samuel Washington - m. (1) Jane Champe (2) Mildred Thornton (3) Lucy Chapman (4) Anne Steptoe (5) Susannah Perrin
John Augustine Washington - m. Hannah Bushrod
Charles Washington - m. Mildred Thornton
Mildred Washington (1739-1740) - infant.
Community content is available under
CC-BY-SA
unless otherwise noted.