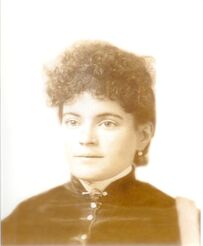 Mary Elizabeth Scully (February 3, 1866 - August 30, 1920) was a resident of Middletown, Connecticut.
Scully was born on February 3, 1866 in New York City as the daughter of John Scully and Catherine Dunn in New York City and received her schooling in Middletown, Connecticut.
During the end of her life, she had a stroke and was contained to the home. On August 30, 1920, she died, leaving her widower, William, and her children.
Scully married William Ford Tourtellotte on April 25, 1889 in Middletown, Connecticut. From 1891 to 1908, she had nine children.
Grace Ethel Tourtellotte (1891-1962) - John G. Stone
William Tourtellotte (1893) - infant.
Gertrude Tourtellotte (1893-1916)
Francis G. Tourtellotte
Edith Tourtellotte (1894-1971) - m. Albert L. Smith
Zita Tourtellotte (1896-1966) - m. Arthur Donovan
Caroline Tourtellotte (1899-1991) - m. Clarence Machol
Irene Tourtellotte (1908-1980) - Theodore D. Rutherford
Alma Tourtellotte (1901-1979) - Stanley Winner
Community content is available under
CC-BY-SA
unless otherwise noted.