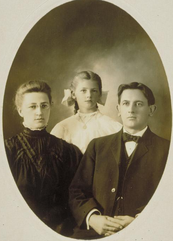 Max Heider (August 22, 1874 - July 8, 1952) was a German immigrant to Connecticut and an employee at the New Departure Manufacturing Company in Elmwood, West Hartford.
Heider was born on August 22, 1874 in Germany. After spending his childhood there, he emigrated to the United States in 1890 and became a naturalized citizen in 1898. In 1911, he moved his family to the Elmwood section of West Hartford, Connecticut, living at 1100 New Britain Avenue, a large family home on the north side. In subsequent years, he allowed different families to stay in the house.
He joined the Elmwood Community Church and was a member of Wyllys Lodge No. 99 AF&AM and the West Hartford Chapter No. 53. He worked at the New Departure Manufacturing Company for many years until he retired in 1932.
On July 8, 1952, Heider died at a local convalescent home at the age of 78.
Family
[
]
Heider married Nellie Brewer.
Margaret W. Heider - unmarried.