Nellie Brewer (1873 - November 1, 1966) was a resident of West Hartford, Connecticut.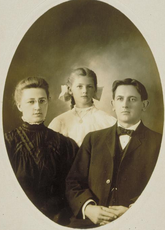 Brewer was born in 1873 in South Norwalk, Connecticut, as the daughter of Risdon A. Brewer, a Civil War veteran. She lived most of her life in the Hartford, Connecticut area, living in the Elmwood section of West Hartford on New Britain Avenue after 1911. She became a member of the Sarah Whitman Hooker Chapter of the Daughters of the American Revolution, West Hartford, a member of Lizabeth A. Turner Tent 6, Daughters of Union Veterans of the Civil War of Hartford, and a member of the United Congregational Church of Bridgeport after she moved there in 1959, where she lived with her daughter, Margaret.
On November 1, 1966, Brewer died at the age of 93 at Bridgeport Hospital, after having lived at 55 Nash Lane.
Brewer married Max Heider.
Margaret W. Heider - unmarried.
Community content is available under
CC-BY-SA
unless otherwise noted.