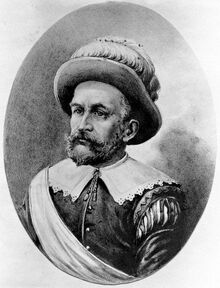 Peter Minuit (c. 1585 - August 5, 1638) was a Walloon from Wesel, in present-day Westphalia, Germany; then part of the Duchy of Cleves. He was Director of the New Netherland colony from 1626 until 1631, and founded the Swedish colony of New Sweden in 1638.
Minuit was born sometime between 1580 and 1585 as the son of Johan Minuit. He was born into a Protestant family that had moved from the southern Netherlands to Wesel, Germany, in order to avoid Spanish Catholic colonials, who were not favorably disposed towards Protestants. He had a good reputation in Wesel, attested by the fact that he assisted the poor during the Spanish occupation of 1614-1619. During this time, he worked as a diamond cutter, but by 1624, the city was in an economic decline and he left Wesel the following year. He joined the Dutch West India Company in the mid-1620s, and was sent to New Netherland in 1625 to search for tradable goods, other than animal pelts. In 1626, he was appointed the new Director of New Netherland, taking over from Willem Verhulst. He sailed to North America and arrived in the colony on May 4, 1626. He purchased the island of Manhattan from the Native Americans in exchange for traded goods valued at 60 guilders.
In 1631, the Dutch West India Company suspended Minuit from his post for reasons that are unclear, but probably for abetting the landowners who were engaging in illegal furt trade. He arrived back in Europe in August 1632 to explain his actions, but he was dismissed, and lived in Cleves, Germany for several years. In 1636 or 1637, Minuit made arrangements to create the first Swedish colony in the New World. Located on the lower Delaware River within territory earlier claimed by the Dutch, it was called New Sweden, which he arrived at in the spring of 1638. They constructed a fort later that year, then returned to Stockholm, Sweden, for a second load of colonists.
In August 638, Minuit died during the voyage back to the Swedish colony during a hurricane at St. Christopher in the Caribbean. Nine expeditinos to the colony were carried out before the Dutch captured the colony in 1655, well after Minuit's death.
Minuit married Gertrude Raedts on August 20, 1613.
Lisabeth Peters Minuit - m. Jan Huyck
Community content is available under
CC-BY-SA
unless otherwise noted.