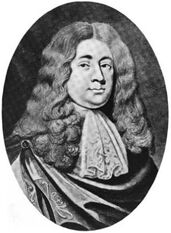 Colonel Robert Bolling (December 26, 1646 - July 17, 1709) was a wealthy early American settler planter and merchant.
Bolling was born on December 26, 1646 in London as the son of John Bolling and Mary Clarke. He grew up in London and arrived in the colony of Virginia on October 2, 1660 at the age of fourteen. As a merchant and planter, Bolling acquired a large estate. He was colonel of the militia and was a member of the House of Burgesses from Charles City County in 1702.
Bolling died on July 17, 1709, and was buried on his plantation in Prince George County, Virginia, where his tomb still stands.
Bolling married first to Jane Rolfe in 1674. Jane died shortly after the birth of her son in 1676.
Bolling married second to Anne Stith.
Robert Bolling, Jr. - m. Anne Mary Cocke
Stith Bolling - m. Elizabeth Hartwell
Edward Bolling - m. ____ Slaughter
Anne Bolling - m. Robert Wynne
Drury Bolling - m. Elizabeth Meriwether
Agnes Bolling - m. Richard Kennon
Molly Mary Bolling - m. Andrew Baker
Thomas Bolling - unmarried.
Jane Bolling (b. 1682) - died young.
Community content is available under
CC-BY-SA
unless otherwise noted.