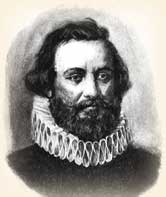 Robert Cushman (February 9, 1577 - 1625) was an important leader and organizer of the Mayflower voyage in 1620, serving as Chief Agent in London for the Leiden Separatist contingent from 1617 to 1620, and later to Plymouth Colony until his death in England.
Cushman was born on February 9, 1577 in Kent, England as the son of Thomas Cushman and Ellen Hubbarde. His religious beliefs may have come from other Canterbury puritans and his attendance at illegal religious meetings, believing that the Church of England was defective. Although the new Church was free of Catholic control, the Puritans felt that the church had kept too much Catholic ritual and needed to be reformed by eliminating all traces of Catholicism. These Separatists often met in secret to avoid the punishment inflicted upon those who did not follow the Anglican form of worship. His first problem with authorities came in 1603 when he illegally distributed derogatory religious writings in Canterbury. He was excommunicated in 1604 twice, but the sentence was lifted by July 7, 1605.
He emigrated with his family to Leiden, Holland, and became a woolcomber, which was listed on November 4, 1611. After years of working with the Leiden Separatists, he was appointed as the agent of the Church in 1616. Beginning in September 1617, Cushman spent much of his time in England, working on preparations for the voyage to the New World. The Separatists looked to him to carry on negotiations with officials in London regarding a voyage to America. By June 1619, Cushman secured a patent from the Virginia Company for the Separatists. He began to secure supplies and provisions in London and Canterbury. When it was time to leave Southampton, Cushman made sure he joined his friends aboard the Speedwell, but the ship was not seaworthy. After the decision to abandon the ship, Cushman and his family had priority to sail on the Mayflower, but they declined, due to an illness Robert experienced.
They arrived a year later to Plymouth Colony aboard the Fortune in 1621. He left Plymouth on December 13, 1621, having already spent four months at sea. On the voyage back to England, his ship was attacked by French pirates and was robbed of its valuable cargo along with the possessions. He arrived back in London on February 17, 1622. Cushman served as agent of the New Plymouth colony until he died in the spring of 1625 of the plague. He was buried in Kent, England.
Cushman married first to Sarah Reder on July 11, 1606. She died and was buried on October 11, 1606.
Thomas Cushman - m. Mary Allerton
Sarah Cushman - m. William Hoskins - this child is speculative.
Cushman married second to Mary Clarke Shingleton on June 5, 1617. She died before 1621 in Leiden, Holland.
Community content is available under
CC-BY-SA
unless otherwise noted.