Robert P. Matatall (October 9, 1886 - October 14, 1961) was a salesman until his retirement and the husband of Frances Goodwin. Born in New Haven, Connecticut, he was a charter member of the Elmwood Community Church, a member of the Wyllys Lodge, A.F. and A.M., and a member of West Hartford Chapter 53, R.A.M.
Life and Death
Edit
He was born on October 9, 1886 in New Haven, Connecticut to Albert H. Matatall and Susan Delanoy. To some, he had a troubled childhood, full of petty crime and vulgar activity.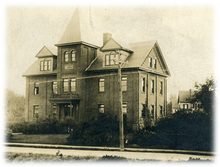 In the spring of 1903, when Robert was 17, he met Frances Goodwin at the Elmwood school on New Britain Avenue. Their romance began, but the parents of both didn't look with favor upon the youthful love affair. Frances was told that Robert couldn't be entertained at the Goodwin fireside. The Matatall family also took their boy in hand and told him that he was too young to fill his head full of nonsense. Robert left school early and went to work as a salesman. Frances went away to school, but when she came back to Elmwood, she confessed that Robert still had her heart and Robert at once proposed that the town clerk be seen and a marriage license procured in September 1904. The Town Clerk told them that neither was of age and that they had to obtain the consent of their parents. When Frances asked her parents at the end of the month, they refused to let her sleep in the house. The boy took her to his home, but his mother at first refused to take her in until she finally sheltered the girl. Frances was turned over to her aunt. For two weeks, the two neither saw nor communicated with each other. One night, in early October 1904, the three were driving out of their yard one night and Matatall saw them. William Bramley, her uncle, punched Robert in the face and threw him over a fence.
After this incident, Frances' parents sent her to Newark, New Jersey to stay with a family friend on October 13, 1904. By October 14, the Goodwins had a change of heart and gave written permission for the marriage. They made it so that once she was of age, she could choose for herself. The Goodwins continued to complain, however, that Robert was not a fit husband for their daughter because he was a "cigarette fiend" and had been arrested several times for certain offenses.
On June 19, 1917, he registered, along with 687 other men in West Hartford, for the United States Army during World War II. After the war, he and his wife Frances went on vacation at the shore resort on Madison beach in July 1926. After his father, Albert, died in May 1929, Matatall took his home at 15 Grove Street in Elmwood.
Robert Matatall died at a local convalescent home on October 14, 1961.
Children Edit
Community content is available under
CC-BY-SA
unless otherwise noted.