Shirley Bramley Goodwin (November 6, 1899 - October 14, 1973) was employed at Swift & Company in Hartford and a member of the Descendants of the Founders of Hartford. She was a direct descendant of Ozias Goodwin, one of the founders of Hartford, and the grandson of Harvey Goodwin, the founder of the famous Goodwin Pottery Company in West Hartford, Connecticut.
Born in West Hartford on November 6, 1899, she was the daughter of Harvey Burdette Goodwin and Anne Bramley at 8 Burgoyne Street. She graduated from Hall High School as a well-known senior on June 17, 1917, known as an essayist. At the graduation, she presented the essay, "The American Red Cross." After graduating, she worked at Swift & Company and was instrumental in the activities of the Elmwood Commuity Church. On May 2, 1927, she was one of the cast members of the musical canter, "Redhead," at Talcott Junior High School. In October 1927, she was also a member of the committee to raise mony for the new Elmwood Community Church on Newington Road by fundraising from Hartford businessmen. In June 1928, she was also placed on the hospitality committee for the annual Elmwood Church spring fair.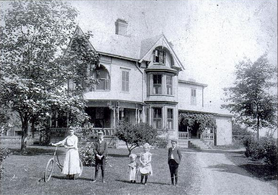 When her mother, Anne, died in October 1949, Shirley was nearly fifty years old and continued living at 8 Burgoyne Street in Elmwood, West Hartford. She never married and died on October 14, 1973, leaving only her brother, Harvey Goodwin.
Community content is available under
CC-BY-SA
unless otherwise noted.