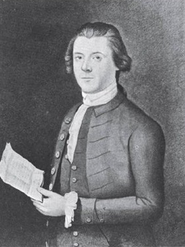 Thomas Bolling (July 7, 1735 - August 7, 1804) was a Virginian lawyer and an important figure in the education of deaf children in the United States.
Bolling was born on July 7, 1735 on his family's plantation in Virginia as the son of John Bolling, Jr. and Elizabeth Blair. He grew up on the Cobbs plantation and became a distinguished lawyer. He served as Justice of Chesterfield Company and was a staunch and liberal supporter of the Episcopal Church. In the latter half of the 18th century, influenced by his deaf children, Bolling helped establish the first School for the Deaf in the United States at his home in Virginia.
On August 7, 1804, Bolling died in Chesterfield, Virginia.
Bolling married his cousin, Elizabeth Gay.
Elizabeth Bolling - m. William Robertson
William Bolling - m. Mary Randolph
Rebecca Bolling - m. William Murray
John Bolling - m. ?
Thomas Bolling - unmarried.
Mary Bolling - unmarried.
Community content is available under
CC-BY-SA
unless otherwise noted.