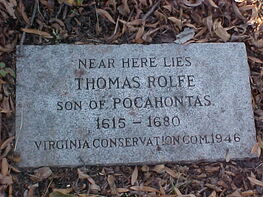 Thomas Rolfe (January 30, 1615 - between 1658-1681) was the only child of Pocahontas and her English husband, John Rolfe, and a settler of Virginia.
Rolfe was born in Varina Farms, Virginia, on January 30, 1615. He was a year old during the voyage to England from Virginia and was not necessarily immune to the diseases and hardships of the journey. Thomas survived, but a year later in spring 1617 was stricken with a severe fever, as was his mother. His mother died just as the Rolfe family was preparing to return to Virginia in 1617. He was left in Plymouth, England, and later transferred into the care of his uncle, Henry Rolfe. His father sailed without him to Virginia, convinced that his son was too sick to continue the voyage, and this was the last time that the father and son saw one another. Thomas remained in his uncle's care until he reached roughly the age of 20, by which time his father had already died. As Henry raised Thomas, he felt he deserved compensation from his brother's estate, and therefore petitioned the Virginia Council in October 1622, claiming entitlement. During this time, Thomas removed to Virginia in 1635.
Once established in Virginia, Thomas fostered both his reputation as a plantation owner, and as a member of his mother's lineage. He expressed interest in rekindling relations with his Native American relatives, despite social ridicule and laws that forbade such contact in 1641. The year after the 1644 Indian attack on the Virginia colony, four forts were established to defend the frontier. Fort James was under the command of Thomas Rolfe as lieutenant as of October 5, 1646. The next day, he was put in charge of building a fort at Moysenac. Several years later, Rolfe patented 525 acres on August 8, 1653 - he inherited tracts of land elsewhere as well.
The last recorded mention of Rolfe exists in a land patent from September 16, 1658. The exact year of his death is unknown.
Rolfe married Jane Poythress.
Community content is available under
CC-BY-SA
unless otherwise noted.