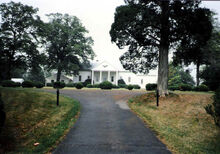 Warner Washington, Jr. (April 15, 1751 - ?) was a Virginia businessman and a cousin of the first President of the United States, George Washington.
Washington was born on April 15, 1751 as the son of Warner Washington, Sr. and Elizabeth Macon. After growing up in the area, he worked as a notably unsuccessful businessman in Virginia. He nonetheless resided successively in three fine homes in Clarke County, Virginia, near Berryville. The first, "Clifton", was sold about the time of his first wife's death in 1795. From there, he moved to "Audley," a spacious but unpretentious home still standing about a mile east of Berryville. In need of cash, Warner sold his "Audley" estate in around 1818, and acquired a new tract of land about three miles south of Berryville. Here, he built a lovely two-story brick home, "Llewellyn," with five dormer windows in a third-floor attic.
Washington died around 1829, as his will was proved in Frederick County, Virginia on June 2, 1829.
Washington married first to Mary Whiting on October 18, 1770.
John Whiting Washington - m. Fanny Baylor
Frances Washington - m. William Snickers
Henry Washington - m. Louisa Washington Whiting
Francis Whiting Washington
Perrin Washington - m. Hannah Fairfax Whiting
Warner Washington III - unmarried.
Beverly Washington (b. Aug. 25, 1786) - died unmarried in South America
Sidney Washington (May 31, 1780 - 1800) - died young.
Emily Washington (May 8, 1778 - 1795) - died young.
"Daughter" Washington (Feb. 22, 1777 - Feb. 26, 1777) - infant.
Washington married second to Sarah Warner Rootes in June 1795.
Reade Macon Washington
Fairfax Washington
William Herbert Washington - m. Louisa G. Whiting
Alexander Hamilton Washington
Mary Herbert Washington
Elizabeth Warner Washington (b. Sept. 28, 1800 - 1882/83) - unmarried.
Thacker Washington (b. Dec. 5, 1797) - infant.
"Child" Washington (d. Nov. 6, 1798) - infant.
"Daughter" Washington (b. 1799) - infant.
Community content is available under
CC-BY-SA
unless otherwise noted.