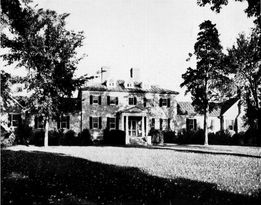 Warner Washington, Sr. (1715 - 1791) was a first cousin to the first President of the United States, George Washington.
Washington was born in 1715 at Bridges Creek, Colony of Virginia, specifically in Westermoreland County, as the eldest son of John Washington and Catherine Whiting. He grew up in the area and became a farmer. Although seventeen years his senior, he and George Washington, his first cousin, were evidently quite fond of each other's company, as Warner is mentioned many times in George's diaries. He was frequently at Mount Vernon, for instance, in February 1769, when he, his brother-in-law, and the host went fox-hunting. George Washington, in subsequent years, visited Warner a number of times at Fairfield.
Around the time of his second marriage in 1765, Washington acquired from his brother-in-law 1600 acres of land on and near Long Marsh, then in Frederick County, whereon he built Fairfield and lived for the remainder of his life. The visits of the Washingtons of Mount Vernon with Warner in 1769 became of special interest. He was still active in the family by June 1788, but by this time, Warner was feeling the weight of years, being then 73 years old. After he made his will on November 20, 1789, he died in 1791.
Washington married first to Elizabeth Macon.
Washington married second to Hannah Fairfax around 1765.
Fairfax Washington (speculative)
Whiting Washington (speculative)
Mildred Washington - m. ????????
Hannah Washington - m. ??????
Catherine Washington - m. ?????
Elizabeth Washington - m. George Booth
Louisa Washington - m. Thomas Fairfax
Community content is available under
CC-BY-SA
unless otherwise noted.