Wilbur Elmore Goodwin (July 17, 1847 - October 31, 1905) was one of the officers of the Goodwin Pottery Company in Elmwood, West Hartford, Connecticut, and the son of the pottery founder, Harvey Goodwin. Serving as an incorporator and director of the Whitlock Coil Pipe Company, he was also the first postmaster of Elmwood, serving from 1873 to his death in 1905.
Life and Death
Edit
Wilbur Elmore Goodwin was born in the Elmwood section of West Hartford on July 17, 1847 to Harvey Goodwin and Frances Elmore. He was a 7th-generation descendant of Ozias Goodwin, one of the founders of Hartford, Connecticut. Goodwin was educated in the district schools and a business college of Hartford. After completing his education in the late 1860's, he worked for his father in the pottery business until 1872 when the three elder sons formed the firm of Goodwin Brothers Pottery Company after Harvey couldn't maintain the firm anymore. With the expansion of the pottery business, he married Ella J. Waters on September 24, 1874; she was born in Hartford, Connecticut on March 4, 1852, the daughter of Henry Waters and Emily Fairbanks. Between 1875 and 1886, the couple had four children, three of whom lived into adulthood.
Goodwin took an active interest in public affairs, and served in many town offices. He was for several years a selectman of West Hartford and a member of the school board for many years. Additionally, he served as Elmwood's postmaster after he was elected in 1873. He remained a member of Wyllys Lodge, No. 99, F. & A.M., and was popular in social and business circles. He resigned as an officer of the Goodwin Pottery firm in May 1895. It was believed that the other officers had demanded his withdrawal, but he maintained that it was the other way, that he was happy to let go of the position. He remained the secretary, however. After his resignation, he continued in the position of West Hartford selectman. In many cases, he acted as a real estate agent in the transfer of lots of land throughout West Hartford, often in the Elmwood section, into the early 1900's.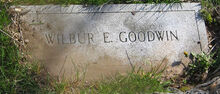 Goodwin died of kidney inflammation at the age of 59 on October 31, 1905. The funeral was held at his home in Elmwood on November 3, 1905. He was buried at Cedar Hill Cemetery in Hartford, Connecticut.
Children Edit
Roy Wilbur Goodwin - m. October 20, 1909 - Ethel C. Fitch
Herman Wilbur Goodwin (Oct. 24, 1877 - Mar. 17, 1878) - infant.
Community content is available under
CC-BY-SA
unless otherwise noted.