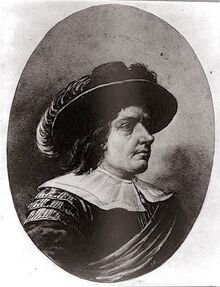 Willem Kieft (September 1597 - September 27, 1647) was a Dutch merchant and director of New Netherland, of which New Amsterdam was capital, from 1638 to 1647.
Kieft was born in September 1597 in the Netherlands. Little is known about Kieft in his early life, but he was appointed to the rank of Director of New Netherland in the New World in 1638 by the Dutch West India Company. Without obvious experience or qualifications for the job, Kieft may have been appointed through family political connections. He formed the council of twelve men, the first representative body in New Netherland, but ignored its advice. He tried to tax and then drive out local Native Americans. On February 25, 1643, he ordered attacks on Pavonia and Corlears Hook - modern New York City - in a massacre. 129 Dutch soldiers killed 120 Indians, including women and children. For their deeds, Kieft rewarded the soldiers. The attacks unified the Algonquian peoples in the surrounding areas against the Dutch to an extent not previously seen.
In the fall of 1643, a force of 1,500 natvies invaded New Netherland, where they killed many, including Anne Hutchinson, the notable Massachusetts dissident preacher. They destroyed villages and farms, the work of two decades of settlement. As New Amsterdam became crowded with destitute refugees, the colonists resisted Kieft's rule. Many people began to leave by ship, so Kieft hired the military commander Captain John Underhill, woh recruited militias on Long Island to go against the Native Americans there and in Connecticut. For the next two years, the united tribes harassed settlers all across New Netherland. The two sides finally agreed to a truce when the last of the sixty-nine tribes joined in August 1645. In 1647, the Dutch West India Company Board of Directors fired him and replaced him.
Kieft died on September 27, 1647 in the Princess Amelia shipwreck near Swansea, Wales en route to Amsterdam to defend himself after he was fired.
Community content is available under
CC-BY-SA
unless otherwise noted.